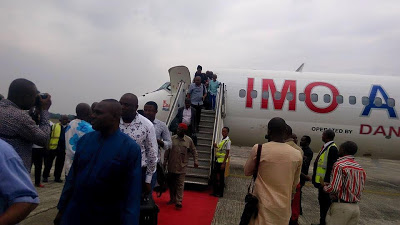 Governor Owelle Rochas Okorocha together with members of the State Executive Council and Imo state residents/indigenes were at the Sam Mbakwe Cargo Airport yesterday to celebrate the acquisition of the first Imo state owned flight, Imo Air.
The 140-Seater plane is reportedly one of five aircraft acquired by the state government and will be operated by Dana on behalf of the state until Imo Air gets a license to operate.
At the Inauguration of Imo Air yesterday, Governor Okorocha said that it was his dream to place Imo state on the pathway to development and growth and the Imo Air venture is believed to be an investment which will generate internal revenue for the state and achieve this dream. He went on to inform that Imo state is not affected by the recession hence they could go into such ventures. It was also disclosed that Imo Air will give a 10% discount to indigenes of Imo state who board the plane while as much as 30% of the indigenes of the state will be employed by the airline.
"This is a happy moment in the State. The aim of going into the Air business is because I want to drive traffic to Imo State as Imo is genuinely becoming the fastest developing City outside Abuja and Lagos. For this, there is need for more airlines to cushion the effects of high traffic coming to the State," Okorocha said.
"Imo government does not have an operating air license. So we needed to partner with a good and qualified airline operator. Hence, the choice of DANA Air because of its proven track record and sincerity of purpose. The Imo Air will be operated by DANA and we have a contract of ten years with them. We have five of this aircraft and the first one has just landed and four other ones will start operation in few weeks time.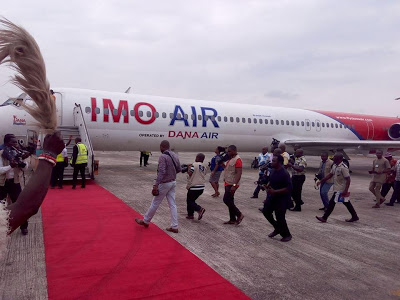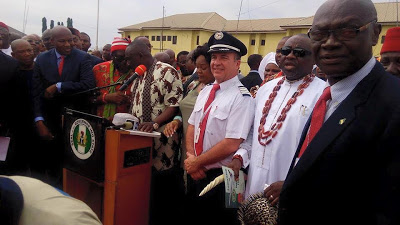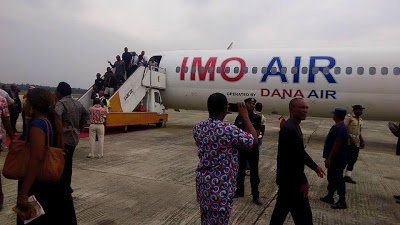 He continued, "The International Cargo Airport will soon kick-start to supplement the efforts of Imo Air. In our pursuit of making Imo better, Imo International Cargo Airport will soon commence operations. Work is going on smoothly and by April God's willing the fastest International Cargo Plane will arrive Imo State. This, we believe will help drive up commercial activities in the State. Imo is a hub for business and there is no better place to invest now in Nigeria than Imo State as inspite of the recession the State is still flourishing and progressing because of its visionary leadership."
The DANA AIR Chief Operating Officer, Mr. Mbanuzuo Obi, while remarking on the Partnership between DANA AIR and Imo Air said, "The partnership between DANA and the good people of Imo State will create employment and better working relationship for the State. Imo AIR is in safe hands and the choice of DANA AIR for the partnership is an excellent choice as DANA AIR is registered with International Air Transport Association operations and security treasuring."