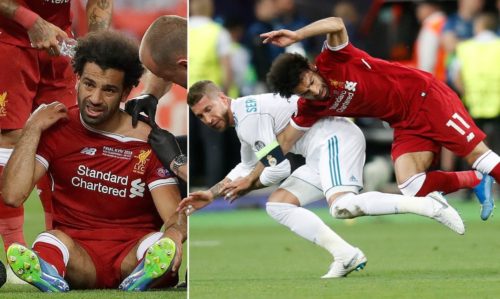 GOAL! Real Madrid 3-1 Liverpool (Bale 83)
Lorus Karius has made another hideous mistake and Real Madrid are European champions!
Bale cut inside from the right and hit a dipping shot from 30 yards that was straight down the throat of Karius, who spilled it over his shoulder into the net. It's an awful mistake. Dear me, this has become the Lorus Karius final.
ASTONISHING GOAL! Real Madrid 2-1 Liverpool (Bale 64)
Oh my goodness, this is a stunning overhead kick!
Marcelo, on the left wing, came back onto his right foot and lofted a generic cross into the box. It came at chest height to Bale, who was facing away from goal just inside the area. He launched into a crazily athletic, spidery overhead kick that flew over Karius and into the net. What the hell was that! Even Zidane, who scored the greatest ever Champions League final goal in 2002, reacted with disbelief.
GOAL! Real Madrid 1-1 Liverpool (Mane 55)
Liverpool are level!
54 min In a very perverse way, that goal might help Liverpool, because to be honest they looked like a team who were waiting to concede. Now they will have to do what they best – attack. Milner's brilliant cross from the left skims off the head of Varane and just over the leaping Firmino.
GOAL! Real Madrid 1-0 Liverpool (Benzema 51)
Lorus Karius has had the mother of all shockers.
I cannot believe this. Karius collected a through pass from Kroos and tried to start a counter-attack but underarming a throw to Lovren. It hit the outstretched leg of Benzema and dribbled miserably into the corner of the net. That's an astonishing mistake.